RED EPIC
RED Epic-X lies on the cutting-edge of digital cinema, featuring a 5K sensor capable of capturing 120 frames per second at full resolution providing services of the highest quality to the NZ film and television industry. Footage is delivered in RAW ensuring maximum flexiblity for colour grading and green screen. In challenging lighting conditions, EPIC makes it easy to adapt with its ability to reach up to 18 stops of dynamic range with HDRx. Remarkable technology packed into a 4lb body - with EPIC, less is more.

RED Epic accessories and modules allow the camera to adapt easily to fit every production, large or small. EPIC brings to the table unrivaled cinema capability — all in a camera the size of a DSLR.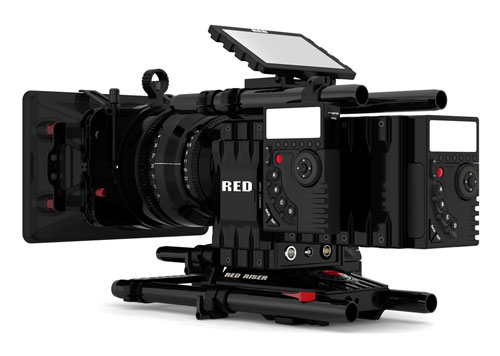 14 Megapixel Mysterium-X Sensor
13.5 Stops, up to 18 stops with HDRx Dynamic Range
REDCODE 16-bit RAW
Compression choices of:
18:1 to 3:1 1-120 fps 5K
1-120 fps 4K
1-160 fps 3K
1-300 fps 2k
Audio: 2 channel, uncompressed, 24 bit, 48KHz, optional 4 channel, and AES / EDU digital audio
Acquisition Formats: 2K - 5K Raw, 1080p RGB, 720p RGB
Delivery Formats: 4K, 2K: DPX, TIFF, OpenEXR, 1080p RGB or 4:2:2, 720 p 4:2:2 : Quicktime, JPEG, Avid AAF, MXF. 1080 4.2.0, 720p 4:2:0 : H.264, .MP4

We have this Red Epic Camera package for hire in the South Island of New Zealand. Please email us for competitive hire rates.

Our Work
Our Camera Equipment
Corporate Information
Gin-Clear Media is based in Te Anau, New Zealand and is a multi-media company whose enterprises include leading feature films, websites, events and exhibitions. RISE is Gin-Clear Media's 7th annual film festival, adding to its increasingly important influence in the fly fishing film genre.